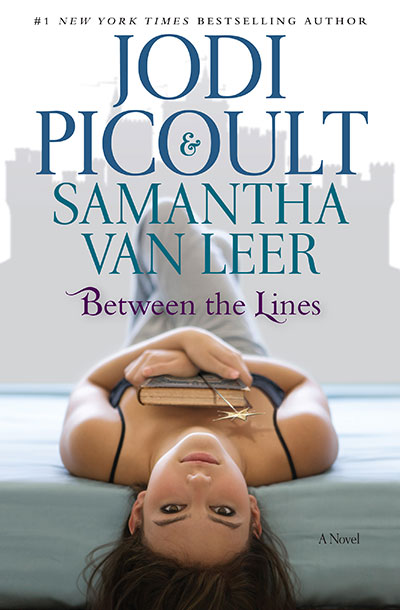 I felt the thrill in my bones at seeing Jodi Picoult. Then came the time when talked about the book she co-wrote with her daughter and she asked who was thirteen and I answered that I was fourteen. Seeing Jodi Picoult was exciting enough but feeling that book in my hand, knowing that I was one of the first to read it... Well it certainly was enough to get my heart singing.
Like I said I would, I'm posting the review of her book. This is mostly what I wrote to her (she responded to me. Ah!).
Between the Lines
was about a fifteen-year-old loner named Deliliah. She pretty much hates school and only has one friend, a sassy Goth girl named Jules. Her only saving grace are books, especially this one fairy tale that she reads constantly. Her life changes when one day she finds one of the characters interacts with her and that she is one of the few people able to answer him. His name is Oliver and he is the prince of the story. She finds out that the characters act out a book whenever a reader opens it but have their own world beneath the book. Most are content with acting this out but he isn't. Oliver wants out and he wants Deliliah's help.
First of all, I just want to say that
Between the Lines
is different than a lot of books that I've read in a long time. In a lot of ways, it was a breath of fresh air in the YA industry. Absent were the overwhelming angst and whininess, love triangle and vampires. It was certainly much lighter than many of the books that I usually read. It brought me back to the whimsicality of the books that I read as a child.
The writing style was fresh and engaging. While I could definitely sense traces of the style that Jodi Picoult has, it was definitely different. Her daughter has a true voicet hat really shone throughout the novel. I liked it
Overall, it was a cute read. I found myself glued to the plot and I really found myself rooting for Delilah and Oliver. I also really found myself wanting people to believe her when she was talking about her situation with Oliver The book was almost like a fairy tale in and of itself,which is always nice. It had a nice pace to it and flowed well; there were no slow spots.
The character of Deliliah was relatable. I really liked how she was made into a outcast type; that was nice. I particularly related with her on her love of books and her feelings towards most of her peers. I think she was very compatible with the character of Oliver, the brave prince and I swooned over their romance a bit.
The pictures in the book were also pretty cool and brought me back to childhood reading. I especially liked howthe pictures related to the text. They really jumped out at you and enhanced myreading enjoyment. There was an Obama/cat hybrid picture relating to Jules made me chuckle.
However, the character of Delilah is abit young in her behaviors for a fifteen-year-old. This wasn't necessarily a bad thing but many readers might not like it. I like that she was bookish and a reject but I'm not sure she was acting like a teenager. It's perfectly possible to just see her as immature, of course (especially considering the audience). This isn't just the fact that she reads a fairy tale book, of course. She just doesn't seem to have many of the characteristics of teenagers like worrying about her appearance (not necessarily to the point of being shallow but just because she likes Oliver and wants to please him) and occasionally cursing. Like I said, I don't mind reading young characters but I think that's a point to consider. At times, I sometimes felt that was a bit much.
I do admit that there are a lot of things that I don't like about fairy tales but I just found this so refreshing. It reminded me of the book
Inkheart
a lot.
I would really recommend this to those who like fairy tales and romances and kids who are advanced readers but aren't ready for much of the concepts in most Young Adult literature.
Jodi Picoult truly is a phenomenal author and I look forward to seeing what her daughter can produce also.